Facilities
Salient Features
Modern building with all facility
Scholarship facility
Highly experienced faculty 
Bus facility from different places of Sagar
Regular workshop and seminar
Large number of books in library
Modern Tutorials Room
Well Stocked Library
Clean and hygienic Canteen

Library
Library facilities are the heart of any educational Institution. The College library has been recently renovated and has now a beautifully illuminated, well ventilated and furnished reading hall. This rich and up-dated library possesses a large number of books, and back issues of national and international journals of repute, including Chemical Abstracts. The library is updated every year and newer journals, books and abstracts are added to it. This helps the faculty members and students to keep themselves abreast of recent developments in the Pharmaceutical Sciences. Book Bank facility is also available for the students. Faculty members from other Pharmacy Colleges often visit our library for reference in Pharmaceutical literature. The Institute provides 5 – 10 text books to every student's right at the beginning of the Semester. The students can keep these books for the whole Semester.

Laboratories
Our laboratories have been specially designed to fulfill the AICTE and PCI norms. The laboratories in the various discipline of pharmacy have been established with the advanced equipment. The institute has following laboratories:
| | |
| --- | --- |
| Pharmaceutics | 06 |
| Pharmaceutical Chemistry | 04 |
| Pharmacology | 02 |
| Phamacognosy | 01 |
| Machine Room | 01 |
| Instrumental Room | 01 |
| Pharm. Analysis | 01 |
| Biotech Lab. | 01 |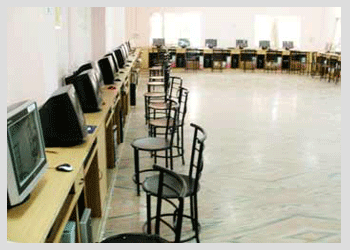 Computer lab
The laboratory provides practical training in Computer programming, applications of computers in Pharmacy, use of electronic media and Internet. The computer laboratory is well equipped with latest computers and necessary software's for the use of Students and staff. There are 30 computers and a scanner available in computer laboratory. High speed fiber optic cable system has been installed and 100 mbps uninterrupted 24 hours internet facility is available on all computers to facilitate teaching and research. We also latest version of scientific software's.
Sports and Games
The Sports and Games facilities at the Campus initiate the students to attain physical growth and sportsman spirit. The college has separate courts for major games which give students ample opportunity to develop their talents and skills.
Medical Facility
Bhagyoday Tirth Charitable Hospital is associated with the college and functioning round the clock so all the student gets the medical facility for 24 hours. A routine medical check-up is also organized to ensure good health for all staff and students.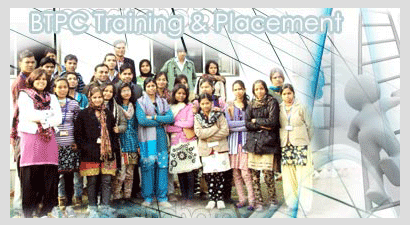 Training and Placement Cell
The Training & Placement Cell of BTPC College is well networked with Industries. It seeks guidance from the industry on regular basis and ensures requisite polishing of the students so that they can carve a niche in their professional Career. The Training & Placement Cell provides not only placements but it gives emphasis to make the students ready to cope up with the current challenges of the Industry by making them aware about the recent market trends. The T&P Cell also facilitates the students in various career development programmes. Eminent experts from Central Universities and Corporate are being invited on a regular basis who can share their experience and knowledge with the students. We keep arranging Educational tours and Industrial visits so that students can get practical exposure of the working environment. Training & Placement Cell is having a team of committed experts who always come forward to impart invaluable suggestions for the betterment of the students
Canteen
The heart and joint of every student, our Canteen is no different. You can get updates on friends, trends, events education, assignments, etc, with variety of snacks, beverages and music.
Wifi campus
High Speed (1:1) 100 Mbps Leased Line Circuit for online video classes and for necessary downloads. 24 hours high speed wifi and internet facilities in the campus including the hostel.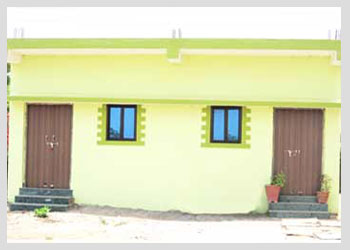 Animal House(Approved By CPCSEA New Delhi)
For Biomedical research or testing which has specific aims to advance practical aspects of new drug discovery and disease management the College has a Central animal house facility which is approved by CPCSEA New Delhi. The animals are housed as per the standard guidelines. Restricted entry is maintained with access control system .The maintenance condition of our animal house has gained it the status of 'Standard Animal House'. Well-equipped animal experimentation laboratories are situated adjacent to the animal house.
Medicinal Garden
A Medicinal garden covering a total area of 300 sq.meters has been developed in campus and is used by B. Pharm students working on herbal projects. More than 70 genus of various medicinal plants had already been planted like Acacia, Aloe vera, Brahmi, Castor, Rauwolfia etc. The plants grown in this garden are useful in preparation of formulations. This medicinal plants garden provides a strong impetus for herbal drug research and for the training of our graduate students in the subject of Phyto-pharmaceuticals and Natural Products.